THYSSEN-BORNEMISZA MUSEUM
In one of the previous publications, we talked about the Prado, one of the largest and most visited museums in the world. However, Madrid possesses many more impressive treasures. Together with the Thyssen Museum and the Reina Sofia Museum, the Prado forms the so-called "golden triangle of art". In the Prado alone you can easily spend days admiring its masterpieces, but consider that only one-seventh of the collection is open to the public.
Now add to this priceless treasures of the Thyssen-Bornemisza Museum. Until 1993, its collection was considered the biggest private collection in the world alongside the collection of the British crown.
The history of this collection is full of tragedy and romance. At the beginning of the XXth century, there was a massive outflow of European art masterpieces that were going into private houses of newly rich American businessmen. Yet, during the Great Depression, the German baron Henrich Thyssen-Bornemisza began buying back such paintings so as to return them to Europe.
In 1986, having gathered the biggest private collection in the world, the baron declared that he was looking for new housing for the collection. Naturally, many countries were interested in such an acquisition. So why was Spain chosen? The kingdom owes it to Carmen Cervera, the baron's wife and former "Miss Spain". The love story of the German baron and the Spanish actress could be turned into a film. Thanks to it, Madrid first received the baron's collection on a loan and later purchased it for a symbolical price.
Nowadays the museum collection is state-owned. The baron managed to enrich it as with classical paintings, especially German and Italian, so the masterpieces of the XVIII-XXth centuries. Currently, the exhibition of Impressionism, Post-Impressionism, and the art of the beginning of the XXth century holds a special place in the collection.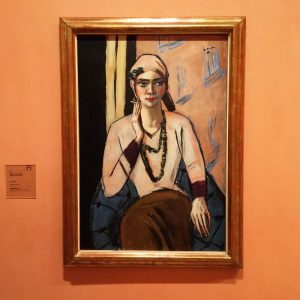 Among many other artists, you will find here Claude Monet, Auguste Renoir, Vincent Van Gogh, Edvard Munch, Pablo Picasso, Salvador Dali, Wassily Kandinsky, and Kazimir Malevich.