Madrid Airport Transfers and Taxis
Taxis in Madrid: How can you call them, prices, options…
You can call us for a Taxi in Madrid at our phone number +34 687 533 687 (Viber, whatsapp) or in our Official Website www.privetmadrid.com
Taxi in Madrid. Which are the different options?
If you are at the street and you see a which Car with a red diagonal stripe at the door with the coat of arms of our city, number of license and a letter (that refers to the day that they are obligated to take off) with the sign Taxi on the top part, then definitely you are in front of one of them. If next to their sign Taxi is lighted with green color then it is running free and you can easily raise hand up and he will stop. Another option is to search for the Word Taxi, and there are plenty of them in our city and also at the Stations (bus, train) and airport. Besides that, you can also reserve them through different apps like Free Now. There are about 16000 so that makes them easily reachable at the street also.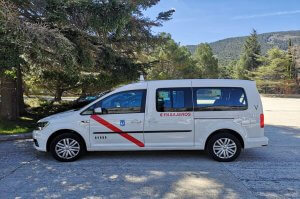 How can you call a Taxi in Madrid?
There are different options for a Cab in our city:
Just raise your hand up whenever you see one of them lighted by green color and written with the word "libre" (which in Spanish means free)
Taxi Stop (if you found one you will recognized them with the letter T and blue color at the backside of the plate)
Call us to reserve at the number +34 687 533 687
Don´t forget to show dial the country code of Spain (+34) before dialing.
To Book in advance with Travel Official Agencies like us is that we cooperate with Taxis offers multiple services like Transfers from Airport to the Hotel or any place you like. The advantage of having a reservation is that a pre-contracted driver will have into consideration delays on your arrival. You can also count that the driver will be previously selected and will have higher quality level, like for example if you need that he speaks an specific language they can search for that. Also for example a good idea if you have a specific celebration and you would like some kind of surprise we can arrange it.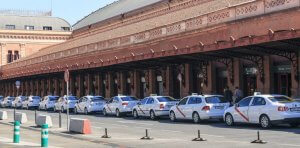 How you pay the Taxi in Madrid?
In general Taxi Drivers prefer to be paid in Cash if is not a big amount up t0 50€ but several years ago they introduced a law that in present times they are obligated to accept also Credit Cards. To understand the price of your trip is easy as they use the Taximeter and some rates are fixed on advance like Airport to the insides of the M30 (first ring of the city) will be always 30€.
How to order a Taxi from Airport to Madrid?
There are different options, but we recommend you by us with "Privet Madrid" if you want a driver that will be waiting you with your nameplate and even if your plane will change schedule times he will be taking into consideration. To book through us means that you will be able to choose your selected Auto Category and that he will be able to explain you some interesting Tips of our City. Our drivers are experienced and like that you will have more guarantees of a pleasant drive to your destination. Just relax and enjoy our Service!
Privet Madrid can adapt your reservation into any kind of reservations (groups, individuals) and level (premium, Standard, high level VIP) but for this, please contact us in advance. If is a regular service like up to 8 people with a couple of hours should be enough if is not a very high demanded date.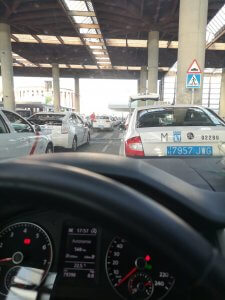 How much does a Taxi costs?
There are different rates.
Rate 1 – Daytime and Weekdays
From Monday to Friday (6:00am to 21:00pm)
Start price 2,40€, Price per Km 1,15€ Price per hour 22,00€
Rate 2 – Night rate and Weekends (from 21pm to 06:00am and Saturdays and Sundays)
Start price – 3,15€, Price per Km 1,40€ Price per hour 25,30€
Rate 3 –  Airport
For passengers from Airport to destination outside of our first circulation ring M-30
Start price – 20€ (up to the 9500 meters then applies Rate 1 or 2 according the timing) + Price per Km 1,15 price per hour 22,00€
Rate 4 – Aiport to center Madrid (inside M-30)
Is a fixed rate and will be maintained 30€
Rate 7 (this is for Stations Train and Bus) mantains fixed in a start price of 7,50€ then after 1450 meters starts running according to Rate 1 or 2)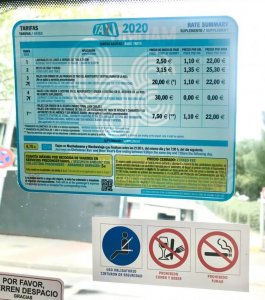 How can I get a Taxi in Madrid?
You can easily find one at the exit of the Terminals T1, T2, and T4. The price of the Trip will depend on your destination if you are going to the inside of the M30 (first ring of the city) then 30€ if not starts counting 20€ and the will change after running 9500meters to Rate 1 or 2).
Which are the different kinds of Taxis that are in Madrid?
Nowadays the offer is wide and there are several different Apps as for Taxi very demanded is Free Now. The irruption into the Market with Companies like Cabify or Uber has strongly changed the concept and service. This has been a big revolution into the Market, and Clients enjoy as an important advantage because now they now in every moment the location of the driver and the time he needs to wait for him. Also the strong completion forced to make more attractive prices. The apps are also popular because also allows to choose model of car. We wish you a pleasant stay in our city.