CERVANTES'S MADRID
Miguel Cervantes is arguably the most famous Spanish writers. Thanks to him, such characters as Don Quijote and Sancho Panza appeared. They long outlived their creator and turned into the symbols of Spain. However, Cervantes's talent turned out of such magnitude that Don Quijote became a unique cultural phenomenon, which is still growing and expanding.
Cervantes's biography is closely linked to Alcalá de Henares. This is a small town near to Madrid. Here the writer was born and brought up, and the town doesn't cease to praise its legendary habitant. Madrid though became his last resting place and one of the main centres of his heritage. So here is a route around Cervantes's places in Madrid, which will let you feel a true Don Quijote.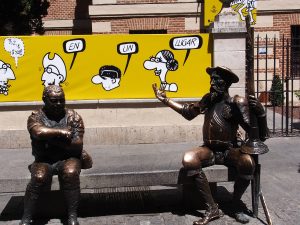 Barrio de las Letras

This picturesque area of Madrid is only a few steps away from Prado. First houses appeared here in the XVIth century. Back then, these streets were known for their gardens and fountains, which Cervantes used to describe as "full of nectar". Nowadays Barrio de las Letras is one of the most prestigious in Madrid as it became the birthplace of Spanish literature. Cervantes would meet here his neighbours, Lope de Vega and Quevedo, of whose success he was jealous, as some say.

Publishing House Juan de la Cuesta

Located by the metro Anton Martín, this publishing house gave the world the very first edition of Don Quijote's adventures. It was printed here in 1605 and soon was translated in other languages, thus bringing the writer the world fame. Now in this place, you will find the Cervantes Society. Thanks to it, even now you can see the same mechanisms that gave the book its material form.

Monastery de las Trinitarias

In far 1580, the nuns of this monastery paid Cervantes's debt, who by that time had spent 5 years in prison. The writer remained ever grateful to the monastery for his salvation and it was his wish to be buried in it. In 2015, researchers identified his remains and now there is a commemorative plaque.

Casa Alberto

This tavern is on the Huertas Street. It was open after the death of Cervantes, in the XIXth century. But the building, in which the tavern is located, has a direct link to the writer as he wrote here the second volume of the famous hidalgo's adventures. Here on the corner there is another street that also used to welcome the writer, as he lived in building number 2. Nowadays this street is called after Cervantes.

The Liria Palace

There are plenty of reasons to visit the Liria Palace. It was constructed in the XVIIIth century for probably the best known Spanish aristocrat, the Duke of Alba. There is a special surprise for Cervantes's fans in the palace. In its glorious library, which has almost 20000 books, they keep the first edition of Quijote, which was published in 1605 in the publishing house of Juan de la Cuesta.
If you get hungry after such an intense walk, then here's a personal recommendation, the restaurant El Ingenio de Cervantes. It is situated by the Square of Spain, and although Cervantes did not dine here, this restaurant is worth your attention. Its owners gathered a beautiful collection of art inspired by Cervantes's genius as well as editions of Don Quijote in all languages. Besides, you can enjoy a proper Castillean meal here.