JAZZ: TOP PLACES IN MADRID
Jazz was born in the USA at the beginning of the 20th century. At that time, New Orleans was one of the fastest-growing ports where varied cultures mixed up. It was here where European classical music met American blues and South American rhythms, and together they created a unique musical phenomenon, jazz.
One of the main features of jazz is its freedom as its music is based on improvisation. The famous Louis Armstrong is considered the father of the modern sound of jazz improvisation. He conquered the world with his trumpet solos, which were energetic, melodic and at the same time playful, the solos that could only raise from freedom and are impossible to repeat.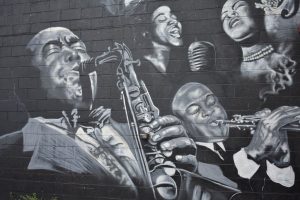 Since then jazz has achieved acknowledgement and numerous fas around the world, and it still is constantly developing and surprising. Some of the most popular jazz styles nowadays include Latin jazz, the fusion of jazz and rock, and in Spain, there is a unique genre which is the fusion of jazz and flamenco.
If you fancy spending an evening accompanied by sensual and energetic jazz rhythms, then here are some bars where you can find the best jazz musicians.
Café Central

This is one of the most renowned jazz cafés, on whose stage the best musicians of Europe have performed. The price for entrance starts at 15 euros but every concert here is worth it. Besides, Café Central is situated at the beginning of the Barrio de las Letras, which means it is only 5 minutes away from Puerta del Sol.

Café Berlin

This is another famous jazz scene in Madrid, which recently went through a rebirth. In 2003, the café was forced to close down but now its back with new forces and talents. Apart from concerts, there is also a whole school of jazz. This café is also famous as one of the few that gives a chance to perform not only to already successful musicians of Europe but also rising local artists. You will find Café Berlin by the Callao square.

El Junco

Here you will be able to enjoy not only jazz but also blues, funk, and even rock. This bar is not very big in size but luckily it has three zoned. There is space by the stage where you can dance, by the bar you can enjoy cocktails, and if you feel like chatting then there is a third, "quiet" zone. The bar is located in the fashionable area of Malasaña, just a few metres away from the metro stop Alonso Martínez.